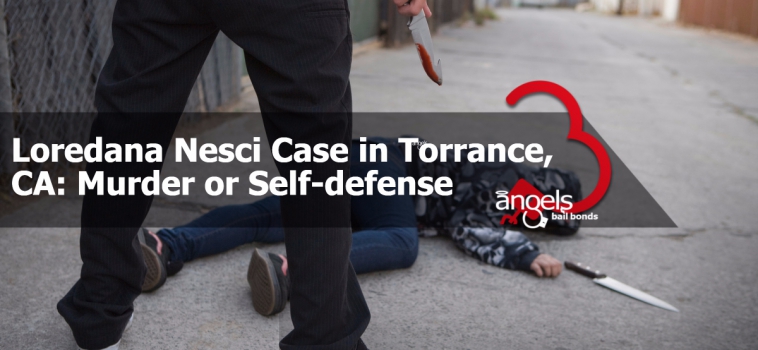 Loredana Nesci Case in Torrance, CA: Murder or Self-defense
During six episodes in 2014, cameras followed every move of Redondo Beach attorney Loredana Nesci as she showed about her professional and personal life, displaying her world and life style for her SundanceTV reality show audience.
However, those cameras, weren't with the 47-year-old attorney on July 22, 2015, to document the morning her boyfriend, Robert Brian Reagan, supposedly stabbed her to death with a 15-inch "Rambo-style" hunting knife, killing her in her bedroom and waiting for hours to call the police.
Trial opens
As Reagan's murder trial began Thursday in Torrance Superior Court, a prosecutor displayed morbid photographs and told jurors that Reagan "gutted" Nesci, pushing the blade into her abdomen and thrusting it on repeated occasions, causing four wounds inside her so severe her insides looked like "Swiss cheese."
The abdominal wound, Deputy District Attorney Allyson Ostrowski said, showing a picture to the jury, was 7 inches long.
While Ostrowski told jurors that Nesci could not tell anyone what happened to her that morning, Reagan's defense lawyer, Shepard Kopp, said Reagan would.
Defense claims accident
In his opening remarks, Kopp said Reagan is innocent and will take the witness stand during his trial to tell his story.
"He is going to explain to you the events that led up to this accident," Kopp said.
Loredana was stabbed accidentally, Kopp said after she pulled the knife on Reagan during a dispute while their 5-year-old son was sleeping in the next room. During a fierce struggle over the weapon, they fell onto their bed.
Nesci, Kopp said, collapsed onto the knife, which plunged into her body. Reagan fell on top of her. The knife still inside of her, they continued to fight until Nesci said,
"I think I am dying."
"He would never perpetrate a crime like this leaving one of his sons without their mother," Kopp said in his statement. "He is not the type of person who would perform murder."
During the next few days, Deputy District Attorney Allyson Ostrowski will try to prove Reagan is guilty of first-degree murder. Using explicit photos of Nesci's body, a medical examiner is expected to explain how there was no way Nesci died accidentally.
Here is a list with some Bail Bond Resources
'Gruesome crime.'
"They are morbid because this is a morbid crime," Ostrowski told jurymen in her opening remarks.
Reagan called Redondo Beach police at about 7:15 a.m. that day, four hours after Nesci died. Police officers who attended to his call; requesting for officers to come to the couple's house in the 1900 block of Nelson Ave. The police officers found he was not at his home.
Reagan drove up, Officer Sawall testified, as he was entering the master bedroom at the back of the house, trying to see if anyone inside needed help. Sawall said he was unable to see Nesci's body in the dark since it was lying on the floor on the side of the bed, hidden below a bloody comforter.
Sgt. David Christian said Reagan pulled into the driveway as he was in his patrol car out front. Once Christian, Sawall and one more officer met him and went inside, Reagan told them: "I had a fight with my girlfriend with a knife. She is in the dormitory."
"I said, 'What?' " Christian recalled. "He pointed to the back of the house and said, 'She is in the bedroom.' "
Calls his family, not 911
In her statement, Ostrowski said Nesci's death happened at about 3 a.m. As Nesci was lying dead, Reagan called his brother and sister in San Diego at about 4:15 a.m. They arrived at about 6:15 a.m.
After they had stayed about 15 to 40 minutes, they drove away with the son, Rocco, three musical instruments, Reagan's laptop computer, a bicycle and a check for $3,200, Ostrowski said.
Sometime before calling the police, Reagan took a shower. Crime scene investigators found bloody footprints on the bathroom floor, and drops in the shower and the drain, Ostrowski said.
Maintains innocence
From the time of his arrest, Reagan has maintained his innocence. Kopp said from the beginning that his client acted in self-defense and the death was accidental. Nesci, he told reporters, was a strong former police officer who struck Reagan throughout a domestic dispute.
During court on Thursday, Kopp told jurors that Reagan had no criminal background, he was the father of three boys – two of them grown – and had no idea the knife ever existed.
The pair had planned later that day to go to San Diego to get a passport for their son to follow his mother on a trip to Italy.
However, during an argument that escalated, Nesci slapped him and punched Reagan with a fist in the face, Kopp said. He then hit her back with the open hand. She told him to get the eff out of the house.
Defense: Nesci pulled knife
Reagan, went into the bathroom to let things calm down, but when he came out, Nesci was holding the hunting knife in her right hand, the attorney said.
They fought until Nesci fell onto the bed and the blade cut into her. When Reagan stood up, he realized she was gone.
"He could tell she was gone and no doctor was going to bring her back," Kopp said.
Instead of calling 911 for police or paramedics, he prevented his son, Rocco, from seeing what had happened to Nesci. Knowing police would arrest him, Reagan contacted his relatives, gathered his son's instruments and bicycle, wrote a check for any expense, and drove to the bank to deposit a check for clearance.
Once his family members picked up his son and drove away, Reagan called the police, Kopp said.
Following his arrest, police released him after posting $1 million bail. Bail Bondsmen in Torrance.
Kopp said he would summon experts that will contradict the prosecution's physical and crime scene proof to show Reagan is not a murderer.
"It was an accident that took place as he tried to disarm Miss Nesci," Kopp said.
The trial is anticipated to last through mid-August.
Watch a video about Loredana Nesci's case.