Elder Abuse In California – Penal Code Section 368
When you work with our team, we will guide you through each step of the bail bonds process, from the initial arrest to your bail bond being exonerated.
Our bail bondsman's goal is to help you get your friend or loved one out of jail as quickly as possible.
The Bail Bonds Process
When in jail for a domestic abuse charge such as elder abuse, an individual should try to get out quickly. Here is the most common process people go through, from arrest to getting out on bail:
You are arrested on a domestic violence charge.
The next morning, you must appear before a judge who will go over your case, dictate a penalty, and set bail if the sentence includes jail time.
The bail amount will depend on factors such as criminal history and the seriousness of the charge.
Your loved ones might want to get you out of jail, but not have enough money to post bail.
They can contact a bail agency for help, which usually requires them to put down a percentage of the amount (sometimes 10%, but this can vary depending on the charges).
The person who is interested in bailing you out (known as a co-signer or indemnitor) has the legal responsibility for the bail bond and is responsible for the defendant's appearing in court.
Even if your loved ones still don't have enough money to put this percentage down, they can use a valuable item as collateral, like a car, while the rest is paid in cash.
After the bond agency accepts the payment, they begin working on the indemnity agreement paperwork and contacting the jail where you are detained to arrange your release.
A bail bond agent from the agency will take care of the rest, posting bail at the prison where you are arrested and securing your release.
Please remember that although this process can be completed if everything's done correctly, an agency cannot begin working until the defendant has been through the process of arrest and booking, which can take longer.
Recently there has been increased attention brought to domestic violence cases from the media, lawmakers, and society, resulting in strict penalties for anyone convicted, so your process may vary or may even be altered by the notoriety of your charge.
How Much Is Bail For Elder Abuse?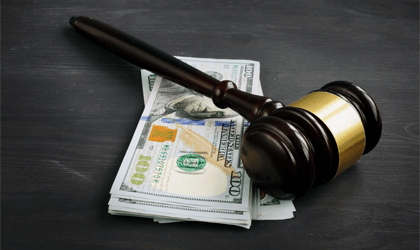 The exact charges a defendant will face if they're arrested in a domestic violence crime category will depend on what they did specifically.
California's penalties for elder abuse are very steep, and it will depend on how the prosecutors continue with the case. If a person is accused of committing elder abuse, they may be charged with a misdemeanor or a felony. Regulated under section 368 of the California Penal Code, elder abuse is a criminal offense in California.
Misdemeanor elder abuse penalties include up to one year in county prison and up to $6,000 in fine. Abuse of the elderly is a more serious criminal offense. If someone is accused of a crime, they could face up to four years in state jail.
Generally, domestic violence cases are filed as misdemeanor cases. The initial payment for bail in these cases usually is about 10% of the total amount. However, several technicalities may influence the cost of domestic violence bail bonds.
Now, a person can be charged with criminal threats if they threaten someone or take their cell phone out of their hands; in this case, they may also be charged for vandalism or for dissuading a witness, which is a serious crime.
What Is Considered Elder Abuse?
Elder abuse is considered a "wobbler" offense, meaning that, depending on the specifics of the case, a person can be accused of a misdemeanor or felony.
In compliance with the Penal Code 368, an elder abuse crime constitutes harm at someone who is 65 years old or older. Elder abuse can involve:
Physical violence and harm to an elderly citizen.
Emotional violence or emotional suffering by ridiculing or isolation.
Financial abuse or exploitation.
Endangerment through neglectIon or wilfully putting the elderly adult into a situation that can cause them health or safety issues.
Felony elder abuse is a serious crime. An accused of elder abuse can face up to four years in state prison if charged with a felony. If the elderly victim suffered bodily harm, the prison term could be increased by three years—for victims under 70 years old— and five years for victims older than 70 years of age. Likewise, the conviction could increase by five years for victims under the age of 70, and by seven years for victims 70 and older, more if the defendant is accused of causing death to an elderly.
Examples of Elder Abuse Under California Law
Anyone suspected of violating California's laws on elder abuse can be charged under the PC 368. Examples of elderly violence are:
Families that distract social security inspections or cause financial harm to the elderly or senile victims
Nursing homes or doctors that are suspected of causing physical, emotional or sexual harm to a senior victim
A person who deliberately causes physical pain or withdraws an elderly from their medication.
Other examples are:
Financial abuse
Abandonment
Neglect
Sexual abuse
Getting Out Of Jail When Arrested For Elder Abuse In California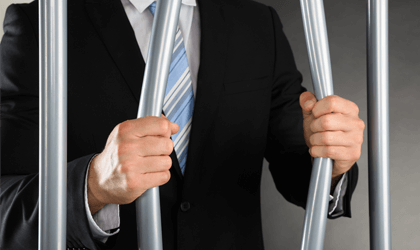 Under California Penal Code Section 1203.097 PC, the court is required to impose certain mandatory probation terms, such as a protective order and a batterers' class. However, the court and prosecutor will often take the defendant's lack of record into account and may impose terms of probation designed to correct behaviors rather than punish.
Several elder abuse defenses can result in cases being dismissed or reduced. Here are some successful defenses that can be raised on the defendant's behalf:
There was no intent in harming the elderly.
There was no willful or criminal negligence in the act.
The victim was not 65 years old (at least).
Not knowing the victim was 65 years old.
Self-defense or in defense of others.
If you or a family member have been arrested for a domestic violence offense, it is crucial to meet with a domestic violence criminal defense attorney immediately.
If you need help with your bail, call now for 24-hour domestic violence bail bond services: (800) 224-5911.
We have several offices throughout Southern California where we can meet you. Check out the map below to find the location closest to you. We have convenient locations in Santa Ana, Newport Beach, Norwalk, Torrance, Irvine, Costa Mesa, Long Beach, San Pedro, Lakewood, Whittier, & Anaheim.
A- There are three key things you need to know:
Where is the defendant in custody? Includes city, state, and prison names.
What is the person's full name and booking number in jail? To contact the jail, the bail agent will need this information.
How much is the bail? With the bail number, you will tell the bail bondsman how much it would cost to post a bond and conditions to get the person out of jail.
A – It can be anywhere, usually by people in relationships, families, or marriages. People who have children together can be domestically abused as well. It doesn't matter if it's on the street, in the home, in the car, or in a hospital. It is considered domestic abuse if you are in an intimate relationship with them (marriage, relationship, family, etc.).
A- Technically speaking, unless you have extenuating circumstances, you cannot leave the State unless you are on bail. The local court handling your case and the bonding company who wrote your bail bond must pre-approve these rare occurrences that could cause you to leave the State.
A- There is no specific answer, it all depends on the conditions, such as what prison the prisoner is in, what crime has been committed, the amount of bail, and the duration of the court case. Typically, bail is set the day after the defendant is charged, but if the arrest occurs on a weekend or night, they will have to wait for the court's next business day to see a judge and get bail.
While this is a challenging and stressful situation, you can try to converse with an organization without any time expectations. Bail bond agencies are great at telling you how long the process should take for your loved one to be out of jail and keeping you updated every step of the way.
A – There is no actual guideline that defines every single item you can use as collateral for bail. The five most commonly used items are vehicle, real estate, precious metals and jewelry, savings and investments, and pawnable items.
A- If this is allowed by your agreement with the bail bond provider, you may revoke your agreement and cancel your responsibility for the bail. You will do so if you suspect the defendant is trying to miss a bail date or is not meeting the bail conditions. If you want to cancel a bond, please contact the agent as soon as possible. The lawyer will notify the court, and the suspect will be held by some means before he or she can obtain bail. Fees may be associated with canceling a bond, which will be explained to you by the agent.
A – Expungement of a criminal conviction is possible if you were convicted of a misdemeanor or otherwise did not serve time in state prison, a factor that will render your conviction ineligible for expungement relief. A felony in California under this code section, however, provides for state prison time.
However, with elder abuse cases, If convicted under PC 368, the defendant may still qualify for expungement if they met the following: A sentence to formal probation and served no state prison time.  
An expungement does not result in the complete eradication of your conviction record. It remains accessible to persons considering you for public employees and law enforcement and court personnel for a sentence enhancement if you commit a subsequent felony offense.
A- Non Citizens should be aware that an automatic immigration hold can be triggered by being arrested or detained for a domestic violence offense.
Whenever a noncitizen ends up in custody, the Department of Homeland Security (DHS) would be notified, and the noncitizen would be placed in an immigration hold, which will prevent them from being released from custody. This hold tells the jail not to release the noncitizen, even at the end of the sentence of custody. Instead, DHS will place the noncitizen in federal custody once the prison term is finished and the removal proceedings begin.