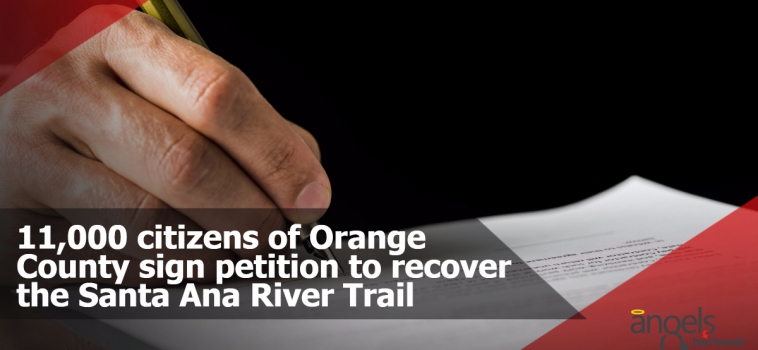 11,000 citizens of Orange County sign petition to recover the Santa Ana River Trail
Frustrated over miles of homeless campsites on the Santa Ana River Trail, more than 11,000 citizens have signed a petition asking back their national recreation site, and officials are estimating a state of emergency.
The task force, Anaheim Councilwoman Kris Murray states, would be useful right away after approval and specify a 30-day deadline to locate the homeless somewhere else.
The "massive community triage," as Murray describes it, would be designed to comprise volunteers, the County of Orange, nonprofits, the religious community, as well as state and federal agencies.
Murray vows that at the Sept. 12 Anaheim council meeting she will call for a State of Emergency citywide. "It is not compassionate to let the homeless on the riverbed," Murray explains. "Nothing is safe; nothing is secure."
Drug paraphernalia including used needles is quite common, and human waste filters into the groundwater and down the river into the ocean.
Homeless people would have another alternative of living. If they decline, the plan calls for excluding hundreds and renovating the 30-mile trail to its predetermined purpose — a designated National Recreation Trail that grants a pollution-free commuting path for the public.
During a long and sometimes spirited Anaheim city council meeting Tuesday night, Aug. 29, dozens of residents and homeless advocates debated on how to handle what has become a post-apocalyptic scene for more than six miles.
Councilman Jose Moreno proposed installing portable toilets to help relieve the unsanitary conditions. Others argued such a move enable homelessness and encourages others to relocate to the river trail.
Find a bail bondsman in Orange County.
"We want our riverbeds back. It is simple," Aleha Barraza wrote when he signed the request. "I am tired of feeling unsafe. I have had enough of homeless casing our homes so they can serve from our hard work.
"There are those who want their lives to change and are willing to do whatever it takes to make their lives better," Aleha Barraza continues, "and there are those who are happy where they are at and serve from stealing our BBQs from our backyards to enhance their campsites along the riverbed.
"Let's make a system and make it happen. I am willing to help with the cleanup."
"My home is 12.5 feet away from the river trail in the heart of the encampments," wrote Jeannie Cole in signing the request. The Fountain Valley resident says she has lived in her home for 15 years and "now it looks like a Mad Max movie!
"The conditions are pitiful," Cole states, "unsafe and hazardous."
George says it is usual to hear and see strangers walking or riding bikes and skateboards at 2 a.m., checking for unlocked car doors.
I have run and cycled the trail from Yorba Linda to Huntington Beach. With numbers of tents and makeshift shelters, unleashed dogs and people loitering, it feels like running the gauntlet.
I have seen kindness between homeless people, help from selfless volunteers. However, I also have seen fistfights suddenly break out for no visible reason and pathways blocked for unknown reasons.
As a society, we need to decide if we want the Santa Ana River to be an ever-growing settlers campsite with drug dealing, stolen bicycles, and little law implementation or a recreational crown jewel ranging from the mountains to the sea.
Several signs dot the river trail declaring camping, loitering, littering, polluting along the river trail is illegal.
"This mass disobedience of the law undermines the law's ability to protect all of us," the Change.org petition states. "We demand the vigorous and continued enforcement of these anti-camping ordinances."
No one I have talked to is out to undertake the homeless. "We are sympathetic to those living in homelessness," Murray emphasizes, "and we must take fast action to address this escalating human health crisis."
At the time, the councilwoman calls for strength and will. "Our message must be explicit: Those who want help will get it; those who refuse help must leave; we will enforce our laws.
"The city," she states, "has a moral and legal responsibility to fight."
What Murray calls Operation Home Safe will not be simple nor easy. While the homeless population has increased, our city and county administrators have tried a Band-Aid method.
Murray requires four votes for the "massive community triage."
We will soon find out if our leaders possess the courage for lasting and productive change.
Watch a video about the Santa Ana River Trail Homeless Issue