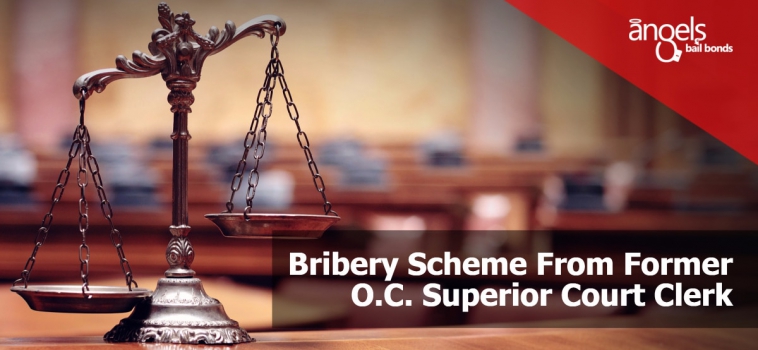 Bribery Scheme From Former O.C. Superior Court Clerk
A former secretary of the Orange County Superior Court pleaded guilty this evening to federal racketeering charges resulting from a scheme in which he accepted more than a quarter-million dollars in bribes to illegally settle criminal cases and traffic offenses on terms favorable to hundreds of offenders without the awareness of prosecutors or judges.
The clerk was Jose Lopez Jr., 36, of Anaheim, pleaded guilty to one count of scheming to violate the (RICO) Act.
In a plea settlement filed last week, Lopez admitted that he was at the center of a plot in which co-conspirators paid him as much as $8,000 in bribes to "fix" cases. The co-conspirators were agents who recruited people with pending cases to pay money that was given to Lopez to set their cases without the court's authorization.
"In total, defendant [Lopez] improperly settled approximately 1,034 cases, comprising 69 misdemeanor DUI cases, 160 other misdemeanor cases, and 805 traffic-related violation cases," Lopez admitted in his plea agreement.
Over more than five years, Lopez "fixed" cases by entering information into the court's computers to make it look that an offender had pleaded guilty, paid demanded fees or had performed community service. In some cases, Lopez fraudulently produced records that made it seem drunk driving charges had been dismissed, or offenders had served mandatory jail time.
In addition to taking bribes and distorting court records, Lopez also falsified a prosecutor's signature within the Orange County District Attorney's Office.
The conspiracy stopped in the spring of 2015 when the court heard about the misbehavior and took steps to revive the cases that Lopez tampered.
"This defendant jeopardized the justice system in Orange County to line his pocket with money he used to travel overseas, take trips to Las Vegas and open a Mexican restaurant," said Acting United States Attorney Sandra R. Brown. "This system affected hundreds of cases and caused plunder in the Orange County Superior Court – problems further hampered when the former clerk urged others to lie regarding the scheme."
Lopez pleaded guilty before United States District Judge Josephine L. Staton, who is programmed to give a sentence to the defendant on September 22. As a result of today's guilty plea, Lopez faces a statutory maximum penalty of 20 years in federal prison.
"The defendant disregarded the rule of law and potentially threatened public safety by essentially serving as judge and jury in numbers of cases to enrich himself," said Deirdre Fike, the Assistant Director head of the FBI in Los Angeles Field Office. "The FBI and our associates will continue to investigate complaints of corruption by public officials and those with access to delicate information."
"IRS Criminal Investigation will proceed to use our monetary investigative skills to combat corrupt practices and hold public officials responsible for their actions," stated IRS Criminal Investigation's Acting Special Agent in Charge Anthony J. Orlando. "Today's guilty plea should work as a warning of what can happen when officers of the court try to benefit from their title."
With Lopez's guilty plea this afternoon, and the guilty plea of a co-defendant earlier, ten people charged with participating in the racketeering scheme by acting as recruiters have pleaded guilty. One more offender is scheduled to plead guilty next month, and the twelfth defendant in the case is pending trial.
The other ten offenders who have pleaded guilty or have agreed to plead guilty are:
   Ricardo Quinones, 33, of Santa Ana;

   Juan C. Rosas Santillana, 33, from Chino Hills, who is programmed to plead guilty on April 21, 2017;

   Ramon Salvador Vasquez, 28, from Santa Ana;

   Manuel Galindo Jr., 27, from Santa Ana;

   Gibram Rene Lopez, 27, from Anaheim;

   Agustin Sanchez Jr., 32, from Santa Ana;

   Luis Alberto Flores Guillen, 26, from Santa Ana, who pleaded guilty earlier today;

   Oscar Centeno, 27, from Santa Ana;

   Jeff Reynes Fernandez, 25, of Fullerton; and

   Jesus Saldana, 28, of Garden Grove.
The final defense in the case – Javed Asefi, also known as "Joey," 44, of Ladera Ranch, additionally to the RICO count was charged with making false declarations to the FBI during its inquiry into the bribery scheme – is programmed to go on trial before Judge Staton on May 2.
Before the 12-defendant accusation being rendered by a federal grand jury last autumn, three others pleaded guilty to federal bribery charges, comprising Rebeca Sarai Rosell, who worked at a Santa Ana bail bonds business and funneled a bribe to Lopez from a drunk driving offender.
Special agents are researching this case with the Federal Bureau of Investigation and IRS Criminal Investigation.
Watch a video about the Racketeer Influenced and Corrupt Organizations (RICO) act