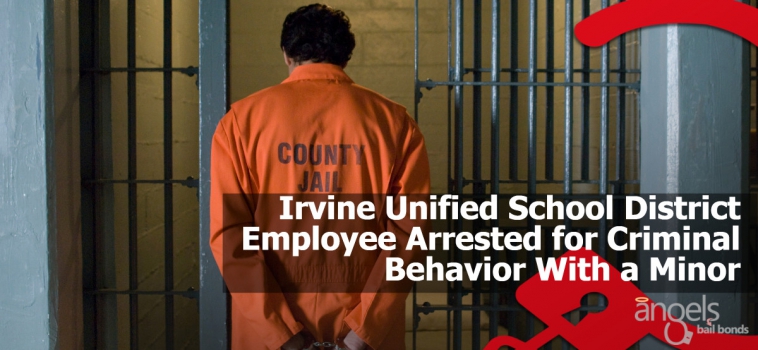 Irvine Unified School District Employee Arrested for Criminal Behavior With a Minor
Last Wednesday on June 14, at 7:11 a.m., the Internet Crimes Against Children Task Force (ICAC) incorporating City of Carlsbad Police Department detectives assisted a San Diego County arrest warrant and with the support of the Irvine Police Department apprehended 39-year-old Jeremy Osso in Irvine, California.
Osso is a suspect of violating California Penal Code sections 288.3(A), Communication with a Minor for Sex, 288.2 (A), Send Harmful Matter to a Minor, 664-311.11 (A), Attempted Solicitation of Child Pornography, and Burglary.
During this investigation, the Carlsbad Police Department discovered Osso is an employee with the Irvine Unified School District. Irvine Unified officials ordered Osso on unpaid administrative leave from the school district after learning of the investigation Wednesday. They notified the school district of the arrest on June 14. The district said there is no indication that any students from Irvine Unified schools are involved in the case.
Detectives became aware of Osso's activities in May of 2017 while leading an online force operation. Authorities said Osso was interacting online with someone he believed was a teenage girl but who in fact was a police detective.
The Carlsbad police refused to comment further on the investigation.
Members of the community with information about Osso and improper or criminal behavior with a minor, please contact the Carlsbad Police Department.
Jeremy Osso will be booked into the Vista Detention Facility in San Diego County. The bail was set at $100,000. Find more information about Bail Bonds.
Read more about the Different Types of Bail in Irvine, CA
"We have zero tolerance for any misbehavior that does not maintain our values, our commitment to integrity, and our service to students," stated the school district. "To be effective immediately, Mr. Osso will no longer teach or have communication with students at University or Irvine high schools or within any Irvine Unified school." "IUSD is taking these allegations very seriously and will continue to work  along with the [Internet Crimes Against Children Task Force ICAC] as well as the Carlsbad Police Department as they move forth with the investigation."
Osso is a University High School football trainer. He has developed as a defensive coordinator for the Irvine school's varsity football team and as a coaching assistant at Irvine High School, according to the Irvine Unified School District, as reported by the O.C. Register. Osso, a former student of Estancia High School, was head football coach at Costa Mesa High School during 2006 to 2011 until he got fired in 2011. Phil D'Agostino, who was then Mesa's principal, allegedly wanted to go in another direction. Osso stated at the time that he got fired because he did not have an instruction credential. The school did offer though to let him stay as offensive coordinator, he said.
"I just don't think I was Phil's guy," Osso told the Daily Pilot at the time. "That is OK. He is the principal, and he makes the decisions. If I am not his guy, that is fine. I can live with that." He became an assistant coach from 2001 to 2003.
ICAC is a national system of 61 coordinated task forces representing over 3,500 federal, state, and local law enforcement and prosecutorial offices. These agencies are continually involved in proactive and reactive investigations and prosecutions of persons implicated in child abuse and exploitation cases related to the Internet. Their mission consists of developing an effective response to technology-facilitated child sexual exploitation and Internet crimes against children. This support comprises forensic and investigative components, training and technical assistance, victim services, prevention and community education.
The ICAC Program started to develop as a response to the expanding number of children and teenagers handling the Internet and other technology, the increase of child sexual abuse images available electronically, and the intensified online activity by predators soliciting unsupervised contact with potential underage victims. Since ICAC Members understand that arrests alone will not resolve the problem of technology-facilitated child sexual exploitation, the ICAC Program is also committed to training law enforcement officers and prosecutors, as well as teaching parents and youth about the potential dangers of online activity.
You can find more information regarding internet safety resources for parents, educators and young adults at ICAC's website. Members of the area are being asked to please report any child sexual exploitation or abuse to the local police, the ICAC Task Force or the National Center for Missing and Exploited Children's Cyber Tip Line at www.cybertipline.com or 1-800-843-5678.
You can watch a video about internet safety.