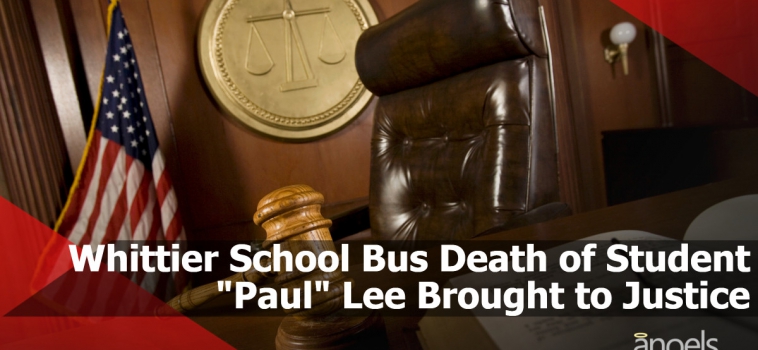 Whittier School Bus Death of Student "Paul" Lee Brought to Justice
On June 12th 2017, attorneys in law Brian Panish, Rahul Ravipudi, and Robert Glassman from the Panish Shea & Boyle LLP law firm obtained a landmark $23,500,000 compensation on behalf of the family of a 19-year-old non-verbal autistic student who shockingly died on a Whittier school bus. The tragic death happened after the driver left him trapped inside to engage in a sexual meeting with a coworker. Sang Nathan Yun from the Yun Law Firm represented the plaintiffs as well.
"We are proud that Mr. and Mrs. Lee has taken steps to make sure the tragedy that has happened them will not strike another family."
On September 11, 2015, in the morning, Hun Joon "Paul" Lee boarded a Pupil Transportation Cooperative (PTC) school bus transporting two additional special needs students traveling to Sierra Vista Adult School in Whittier, California. The bus driver, Armando Ramirez, occupied with text messages from his lover, failed to make sure that Paul got off the bus at his destination. Mr. Ramirez then returned the bus to the yard, oblivious to the fact that the nearly six-foot and over 300-pound young man was still on the bus, and immediately left to meet his sweetheart for a sexual tryst without first completing his required child check and sweep of the bus.
When Paul did not return home from school, his mom notified the Whittier Union High School District, and they found his lifeless body inside the sweltering school bus. Ramirez's text messages and testimony from both the bus driver and his lover confirm that while the two were involved in their affair, Paul continued trapped on the parked bus for about seven hours, powerless to escape on one of the hottest days of the year.
Armando Ramirez was having an affair that day with a married colleague. "She mentioned the Whittier police that she felt sad because while she and Ramirez were laughing and having sex, Paul Lee was left on the bus and died," according to a court document. Panish mentioned that the woman also testified she and Ramirez had left work to have sex previously.
Six months after Paul's passing, Mr. Ramirez was arrested and charged with felony dependent abuse ending in death. In January 2017, he pleaded guilty to the crime and sentenced to two years in state prison. Read more about Bail Bonds in Whittier city.
"Paul Lee was the core essence of the Lee family's universe, and his terrible death is an enormous loss," says Rahul Ravipudi. "Not only was it the straight product of criminal actions by the bus driver, but the precise failures of Pupil Transportation Cooperative and others. Through this litigation, we have learned that PTC is not different and that children are left in school buses all around the country and too often. We are hoping that bringing up these issues to light will make bus companies do the right thing and be vigilant in enforcing fair and safe practices to preserve our children's safety."
Paul Lee's death has been a reactant for meaningful changes in both the methods of the Whittier Union High School District (WUHSD) as well as the California law about the safety of students commuting to and from school by bus. WUHSD has executed protocols to call a student's home and the bus company if he/she does not show up in class within 30 minutes of school starting.
This is how Bail Bonds work in Whittier.
Launching ID cards and setting bus monitors to track all students who enter/exit the bus, as well as placing students on air-conditioned buses if requested.
Governor Jerry Brown signed In September 2016, the "Paul Lee School Bus Safety Law" expecting all school buses in California to implement a child safety alarm system that must be deactivated by the bus driver before leaving the bus. With Senator Tony Mendoza's authorship, the new law also demands bus drivers to receive special training in child-safety check procedures.
"We are satisfied that Mr. and Mrs. Lee has taken steps to make sure the misfortune that has befallen them will not hit another family," Mr. Ravipudi added. "The Lee family and our firm will continue to be alert observing not just the responsible individuals, but all school busing operations, in a sustained effort to protect scholars and families from unnecessary tragedies like the death of Paul Lee."
Pupil Transportation Cooperative's representation in the case ran under Randall L. Winet of Winet Patrick Gayer Creighton & Hanes.
Watch a video about the Memorial Service Held on behalf of Paul Lee.