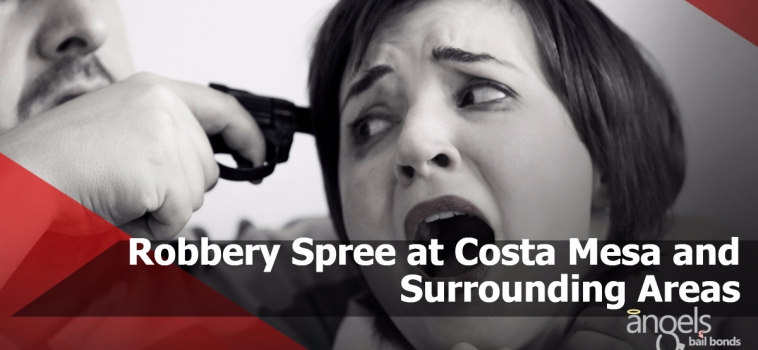 Robbery Spree at Costa Mesa and Surrounding Areas
A suspect associated with a possible string of approximately two-dozen armed robberies at Orange County businesses over the past weeks struck again Tuesday afternoon, this time at a McDonald's in Costa Mesa. Police in various agencies is searching for this man they believe to be responsible for 20 armed robberies at fast-food restaurants over Orange County this last month.
A man entered the McDonald's in the 3000 block of Bristol Street on Tuesday at approximately 4:20 p.m., and gave the cashier a demand note while brandishing a handgun in the waistband of his pants, according to Lt. Greg Scott from Costa Mesa police.
After receiving the money, he fled on foot. According to Costa Mesa police officers, a Huntington Beach police chopper scoured the neighborhood for the suspect without success. There was no one hurt during the robbery.
Authorities say at least 23 armed holdups in Orange County since July 10 link to the same suspect. The thefts have happened in Huntington Beach, Santa Ana, Garden Grove, Fountain Valley,  Westminster,  Orange and Los Alamitos.
Monday night, the individual robbed a Chipotle Restaurant in Huntington Beach and a Jack in the Box in Santa Ana. During the binge, he has also robbed a Subway, Del Taco, and El Pollo Loco.
The robberies are similar detectives say, with the suspect waving out his gun and passing notes threatening to kill the employees if they do not give him the cash. Apparently sometimes he wears a wig and frequently has sunglasses on. Police released a surveillance photo of the criminal from the McDonald's robbery on Wednesday.
The two most recent, on Wednesday, had the precisely same pattern as earlier crimes: A man walked in with a handgun, ordered cash and escaped on foot.
On Wednesday, a man robbed two fast-food restaurants 20 minutes apart in different cities, authorities said.
Find out more about Bail Bonds in Costa Mesa, CA
At 8:20 p.m., July 26th the suspect went into a Pizza Hut at 2003 W. 1st St. in Santa Ana and handed the cashier a note asking money and showed a handgun in his waistband, Santa Ana Police Sgt. Rosa Ponce De Leon said. The man walked away on foot with an amount of cash. Witnesses said he was a Hispanic man wearing dark sunglasses and a black jacket.
Approximately 20 minutes later, a man matching the description robbed a Subway at 2309 W. Chapman Ave. in Orange. The man accessed the restaurant at 8:42 p.m., again, handed a note to the cashier asking for money and displayed a handgun at his waist level, Orange Police Department Lt. Jennifer Amat said. He ran away on foot with cash, Amat said.
In the Chipotle robbery in Huntington Beach Monday night, the suspect was wearing a white shirt, baseball cap, and green pants. He took at least $500.
At the Jack in the Box robbery, the armed robber had a flannel shirt tied around his neck, and at one point bent over the counter so he could keep an eye on the employee who went to another cash register to get the money.
Santa Ana police have released pictures of a suspect in a robbery of a Jack in the Box at the corner of Harbor Boulevard and Hazard Avenue.
On Monday, July 24, a man walked in at about 8:30 p.m. and waved a gun as he gave a note to the cashier demanding money. The man was given cash and left on foot.
Want to find out how bail bonds work in Costa Mesa?
That was the third fast-food robbery within seven days on Harbor Boulevard.
Fountain Valley police reported four robberies over five days in the last week, and they are working along with other agencies to determine if the criminal is the same person. The sufferers: a Subway, a Del Taco, a Roasting Water Cafe, and a KFC.
"For each of these incidents, the loss was money," Sgt. Kham Vang said in a statement. "Each incident appears to be related."
The police describe the criminal as a Hispanic male, 25- to a 35-year-old man, 5-feet-10 to 6-feet tall with a medium-heavy complexion. He has short, black, curly hair. In the robbery, he was wearing dark gray shorts and a black long-sleeve sweater. Fountain Valley police said the suspect has tattoos near his left ear and front and back collarbone. There have been some variations on the description.
Anyone with information about the suspect, please call:
Fountain Valley police at 714-593-4485

Detective Brent Emerson at 714-593-4466

Santa Ana Detective Duane Greaver at 714-245-8362 email

dgreaver@santa-ana.org

Anonymously you can call Orange County Crime Stoppers at 1-855-TIP-OCCS.
A partial list of recently robbed businesses:
July 11th, 12:02 p.m.; CN Wireless; 10181 Westminster Ave., Garden Grove
July 12th, 8:52 p.m.; Subway; 14920 Beach Blvd., Westminster
July 13th, 2:09 p.m.; Wendy's; 10040 Chapman Ave., Garden Grove
July 14th, 10:33 p.m.; Pizza Hut; 10092 Westminster Ave., Garden Grove
July 15th, 9:54 p.m.; McDonald's; 9852 Westminster Ave., Garden Grove
July 17th, time unavailable; El Pollo Loco; 101 S. Harbor Blvd., Santa Ana
July 18th, time unavailable; McDonald's; 666 S. Harbor Blvd., Santa Ana
July 19th, 8:19 p.m.; Subway; 16373 Harbor Blvd., Fountain Valley
July 20th, 9:20 p.m.; Del Taco; 1301 E. Katella Ave., Orange
July 20th, 10:06 p.m.; Subway; 13961 Harbor Blvd., Garden Grove
July 22nd, 12:47 p.m.; Roasting Waters; 11707 Edinger Ave., Fountain Valley
July 22nd, 2:53 p.m.; Taco Bell; 8511 Westminster Ave., Garden Grove
July 22nd, 8:42 p.m.; Pizza Hut; 10072 Chapman Ave., Garden Grove
July 22nd, 9:13 p.m.; Del Taco; 17295 Brookhurst St., Fountain Valley
July 24th,  5:28 p.m.; KFC; 17239 Brookhurst St., Fountain Valley
July 24th, 8:30 p.m.; Jack in the Box; 820 N. Harbor Blvd., Santa Ana
July 24th, 9:40 p.m.; Chipotle; 16241 Beach Blvd., Huntington Beach
July 25th, 4:22 p.m.; McDonald's; 3099 S. Bristol St., Costa Mesa
July 26th, 8:20 p.m., Pizza Hut; 2003 W. First St., Santa Ana
July 26th: 8:42 p.m., Subway; 2309 W. Chapman Ave., Orange.
Watch some footage in this video about the fugitive.