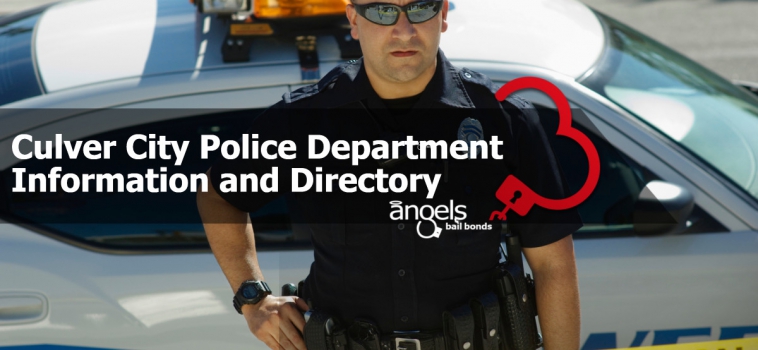 Culver City Police Department Information and Directory
The Culver City Police Department comprises 109 sworn officers, 21 reserve officers, and 50 professional personnel committed to providing the greatest level of police duty to serve the residents, businesses, and guests of Culver City. Led by Chief Scott Bixby, the Police Department continues and aims to shape Culver City as one of the safest cities in California.
Culver City Police Department Address:
4040 Duquesne Avenue Culver City, California 90230
Emergency (24/7):
911
Police Department Main Line: (310) 837-1221
Front Desk: (310) 253-6208
On-Duty Watch Commander: (310) 253-6202
Office of the Chief: (310) 253-6100
EMAIL: chief.police@culvercity.org
Culver City comprises approx. 5 square miles and approximately 40,000 residents. The City hosts a daytime population of 60,000. It is just minutes away from LAX, Marina del Rey, the Pacific Ocean, Santa Monica, Beverly Hills and Downtown Los Angeles, making it great for residents, business, and visitors equally. For more information, click here for the official website for The City of Culver City.
You can now create your Traffic Collisions Reports online
To better serve their residents and insurance carriers, Culver City traffic accident reports are now available online. You can save time and effort entering reports at your convenience by just clicking here to get started.
You can get a copy of a police report by going in person to the station at the records section and ask for a copy of a report or request it by mail sending a letter (company requests should be on letterhead) soliciting the report.
Please include your name and the report number (example: DR#01-1234). In case you do not have the DR#, please provide the date, location, and time of the report.
The price of obtaining a police report varies. Please contact the Records Bureau for additional information at (310) 253-6111.
Crime Mapping and Statistics
The Culver City Police Department has associated with other surrounding law enforcement agencies to share crime statistics information. Through their website, they give you access to crime maps and crime statistics. Once on the crime mapping page, you must type "Culver City" into the search bar at the top of the page. You can control the range of your search by selecting crimes reported by agencies, a time frame by date, and type of the offense. The statistics are updated on a daily basis and are available in a map or list format. The icons displayed on the map represents a particular crime, and you can click each icon to see the details.
New Smartphone App
The Culver City Police Department now has a new smartphone app.
The Culver City PD App is a free and modern app which will help Culver City residents, and anyone else who downloads it, to stay connected with your police department.
The App is a quick link to all of Culver City Police Department's social media outlets, our website, can connect to your smartphone's mapping feature for directions to the Department, provides easy one touch non-emergency dialing, and more. It is available for download on your app store.
Directory:
PARKING ENFORCEMENT. Enforcement parking laws to grant access and availability.
(310) 253-6250
COMMERCIAL ENFORCEMENT. Enforcement of several codes applied to trucks and other large vehicles decreasing damage to city streets and accidents that occur from safety violations.
(310) 253-6250
AUTOMATED ENFORCEMENT. Photo enforced crossings that capture violators who run red lights thus reducing injury accidents.
(310) 253-6269
ALARM ORDINANCE. Supervises security alarm permits, follows false alarm activations and bills subscribers accordingly.
(310) 253-6257
COMMUNICATIONS. In charge of receiving and transmitting radio, telephone, and all 911 calls for assistance from the Police and the Fire Departments.
(310) 837-1221
LIVESCAN. Offers fingerprinting services for the public, for a set amount, who might need registration certification.
(310) 253-6110
CROSSING GUARDS COORDINATOR. In charge of recruiting, hiring, training, and deploying crossing guards in the regions of all five elementary schools around the city.
(310) 253-6250
JAIL. Books, processes, and houses prisoners and court commitments. You can obtain information on prisoners in custody at this number.
(310) 253-6205
PRISON RAPE ELIMINATION ACT (PREA). The Culver City Police Department complying with the Prison Rape Elimination Act of 2003 (PREA) has set standards to anticipate, detect and respond to sexual abuse, harassment and retaliation against arrested individuals or prisoners inside the Police Department's Type 1 jail.
If you would like to communicate sexual assault and sexual harassment on behalf of a detainee inside the Culver City Police Department's jail facility, contact the Jail Supervisor at (310) 253-6205 or the Jail Administrator at (310) 253-6202.
Read about Outraged Sovereign Health Strikes Back in Culver City, CA.