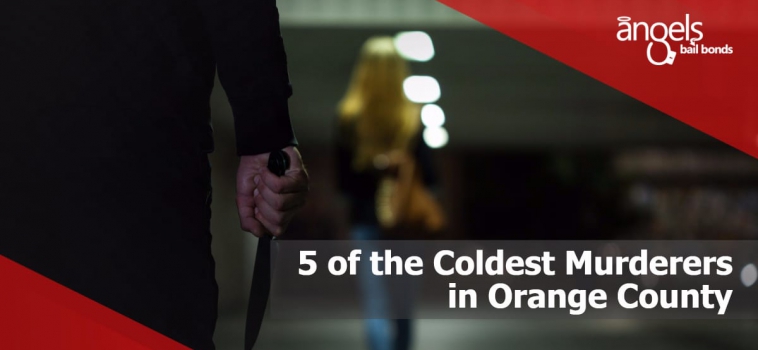 5 of the Coldest Murderers in Orange County
Orange County is a remarkably peaceful place to live, a semi-tropical paradise of freedom. Although, we have also had sadistic and cold murderers.
The television show "Dateline NBC" aired a two-hour segment exploring the crimes occurred in Costa Mesa by community theater actor Daniel Wozniak, convicted of decapitating a neighbor to pay for his upcoming wedding.
Prepare yourself to read along 5 of the coldest murderers that Orange County has encountered through history.
Wife and murderer
Dixie Dyson said that her husband was stabbed to death by a masked robber who then raped her and commanded her to drive him away.
Huntington Beach detectives were unconvinced. Dyson conveniently slept in another room that night, there was no blood on her or her car, and she waited several hours to call the police to their Huntington Harbour house.
Prosecutors claimed that the 44-year-old Dyson plotted with her lover and one more man to murder her husband while he was sleeping – and collect $135,000 of his life insurance. An Orange County jury convicted her of first-degree murder in 1988.
After her trial, Dyson helped in the prosecution of her lover, Enrico Vasquez, and his friend, Ira Lamb, and her sentence reduced to second-degree murder. Dyson got a 15 years sentence to life in prison.
Daughter took the rap
David Brown was out getting comic books when his 14-year-old daughter jumped on his bed and shot fired his wife, Linda, twice in the chest.
When police arrived at the family's Garden Grove home, officers found Cinnamon Brown, 14, lying in her own throw up inside the doghouse, holding a note that read: "Dear God, please forgive me. I did not intend to hurt her."
A visibly agitated David Brown, 36, said he went out that night to get away from the disputes between his wife and daughter.
Cinnamon admitted and was locked in the California Youth Authority in Camarillo.
Case closed? Not really.
While she weakened in prison, her father collected $850,000 in life insurance. He quietly married his dead wife's 17-year-old sister, Patti Bailey and stopped visiting his daughter he once begged: "If you loved me, you would do this for me."
In 1988, the adolescent told detectives that her father and Bailey had planned the murder, promising her that she would not go to jail due to her age. They gave her a .38-caliber and prescription medication to take that night.
Both Cinnamon Brown and Bailey gave testimony against David Brown at his 1990 trial. He was sentenced for first-degree murder and condemned to life in prison. He died in 2014.
Cinnamon Brown obeyed eight years before her release.
Trophy murder
Newport Beach waitress Denise Huber was on her way home from a Morrissey show when her Honda had a blowout at about 2 a.m. on the 73.
Friends recognized her car just south of Bear Street in Costa Mesa. No one heard of Huber for over three years – until Arizona authorities found her body in a freezer belonging to John Famalaro, a former Lake Forest house painter.
Famalaro took her to a Laguna Hills warehouse he rented and smashed her skull. He then came up with a way to preserve the body as a "trophy." Famalaro ordered a new Montgomery Ward freezer. Over the following three years, Famalaro moved the 23-cubic-foot, chest-style freezer to other warehouses, always insisting to the landlords for the power to be on. In 1994, he took the fridge with him to Arizona, where prosecutors found Huber's frozen body.
In 1997, a jury condemned Famalaro in less than 6 hours of the first-degree murder. He was sentenced to death and remains on death row.
House of horrors
When Egyptian model, Omaima married William Nelson, thought she would found her blue prince.
However, four weeks after their marriage, Omaima, 24, bludgeoned her new husband to death with a clothes iron and even boiled his head.
When police arrived their Elden Avenue apartment on Dec. 2, 1991, they found a house of horrors. Bloody sheets, a butcher´s knife, and four trash bags filled with William Nelson's body parts. A fifth trash bag, holding his vital organs, was stashed in his red Corvette outside the Sus Casitas Apartments.
In court, Omaima alleged that William sexually abused her and that she killed him to stop the rapes and beatings.
She boiled William Nelson´s head and hands in water and told a psychologist that she even added spices and had a taste of it.
In 1993, she was convicted of second-degree murder and condemned to 28 years to life in prison.
"I am sorry I chopped his body," she said at her 2011 parole hearing. "I freaked out. I was momentarily insane."
She is eligible for parole in 2026.
Bedroom Basher
Gerald Parker, almost got away with six murders – while an innocent man suffered in prison 16 years for the crime.
Parker raped and killed five Orange County women in the 1970s, earning the nickname the Bedroom Basher because he bashed his victims with a hammer or a mallet.
On Sept. 30, 1979, he left a pregnant Tustin woman, Dianna Green, in a coma for a month. When she awoke, she blamed her husband, U.S. Marine Kevin Lee Green, 22, of beating her for refusing to have sex.
Kevin Green insisted he went out to get a hamburger and saw a man wandering near their apartment, but jurors did not believe him. He sat in prison for 16 years – as Parker escaped justice.
Then in 1996, prosecutors gained access to a new DNA database highlighting samples of 65,000 convicted criminals. The same name popped up for six unsolved Orange County killings, including the attack were Dianna Green's unborn child passed.
Parker confessed all six attacks. In 1998 was convicted of six counts of rape, six counts of first-degree murder and one count of first-degree attempted murder and sentenced to death.
Find information about Orange County's Bail Bondsman.